Arcade is your one-stop-shop to score sounds for any genre. Access the Royalty-Free loops, fresh weekly samples, and tools you need to elevate your music—for only $10/month.
Unlimited access to 50+ lines, 6,000+ kits, 60,000+ samples
Compatible with popular DAWs
Automatic key and tempo locks
4 macro sliders, 3 modifier buttons, and advanced mode
Cancel any time—all sessions work forever
"It's something rare in the world of plugins: a whole new category."
"Arcade allows you to combine sound discovery with instant playability."
"Arcade offers an ingenious solution to creating and reshaping loops."
Larrance Dopson, Producer



Channel Tres, Musician | Producer
Kanye West, Nas, Teyana Taylor
Nipsey Hussle, Justin Timberlake, Ella Mai
Disclosure, Duckwrth, Toro y Moi
Making Music Should Be Fun
But at times creating music can feel like a struggle. Whether it's a lack of inspiration, not knowing where to begin, or spending more time searching through plugins for samples than actually making music.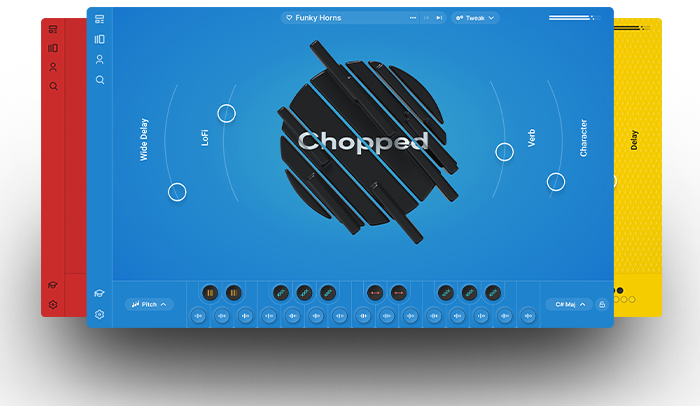 Access Infinite Inspiration
Arcade—the ultimate loop synthesizer delivers endless creativity. Get a playable instrument and unlimited access to today's hottest tracks. Access 1,000s of lines, kits, and a vast library of tracks along with fresh, royalty-free daily samples. It's easy to set up and use. Plus, our powerful key and tempo lock tool makes it easy to jam.
Upload your own tracks, customize, manipulate, and modify them in real-time to get your music to sound just like you—all for only $10 a month.
Cancel any time—all sessions work forever
Easy enough for beginners, powerful enough for pros
The average Arcade user locks a song in within 15 minutes. Whether you've just started using a DAW or have been producing tracks professionally for years, Arcade delivers a wide variety of original and modern sounds and the flexibility to shape them into your own music.
From trap drums, to atmospheric textures, to hard-hitting 808s, Arcade has all the rhythm you need to make sweet beats. Access 1,000s of studio-quality drum samples and transform them to sound exactly like you.
Producers know just how crucial a vocal hook can be to a track. That's why our acclaimed Hooked library makes it easy to create an amazing vocal hook for your songs.
Easily lock down keys and tempos. Manipulate tracks and sounds via three modifier types for each kit line—featuring sub-presets that can be saved, copied, and pasted across layers and sends.
Trigger samples and effects on one keyboard simultaneously. Use your own tracks or access thousands of kits, loops, and a never-ending supply of new content added daily.
Risk-free and ready to rock
Cancel at any time. Don't worry—all sessions that you've built using Arcade will work forever.
See Why Today's Top Producers Use Arcade
Beyoncé, Juice WRLD, Travis Scott
"If I would have had this when I was maybe 20, I'd probably be a billionaire right now."
Future, Lil Uzi Vert, Drake
"I just wrapped up making a beat from scratch, using Output's really amazing technology."
Michael Jackson, Boyz II Men, Madonna
"Output's products are simply remarkable and work perfectly in my production."
Access the unlimited samples and amazing modifiers you need, along with fresh daily samples, to produce perfect tracks—for only $10/month.
Cancel any time—all sessions work forever
Frequently Asked Questions
What if I want to cancel?
You can cancel at any time. With a 30-day billing cycle, we'll remind you 3 days before we charge you.
Will I lose my tracks if I cancel my subscription?
Any session you've built will work forever, though you won't be able to edit loops you've downloaded.
Can I use Arcade on more than 1 computer?
Yes, you're allowed to log into Arcade on a total of 4 computers. Between those 4 machines, Arcade can only be in use on one machine at a time.
Can I add my own samples?
Can I share my sessions with other Arcade users?
Anyone with an Arcade subscription can share their DAW sessions with other Arcade users for seamless integration.
Copyright © 2023 Output. All Rights Reserved.